QuickID
Innovation through engineering and services
QuickID will help quickly identify the server/workstation you are currently on, instead of doing the normal cursory investigation routine. Once started, a small window is placed just above the time in the windows taskbar which displays the name of the host machine as well as other system stats if so configured.




Typical uses: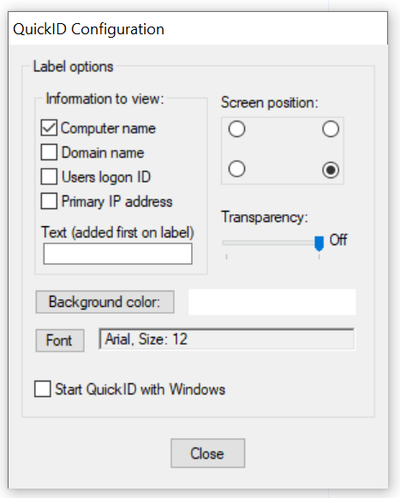 System Administrators who have multiple systems on one monitor using a KVM switch. In this scenario, it is sometimes hard to distinguish one desktop from the next.
IT Help Desk users can use QuickID to help quickly identify the machine of their customers. This is useful for remote management of the machine and to speed up the process of helping to identify the remote machine.

QuickID is small, uses hardly any system resources, and does not require additional DLLs or runtimes to function.

The configuration is stored in the user's profile and does not require administrator access to execute.
* You must purchase a license if you plan to use QuickID in your business.